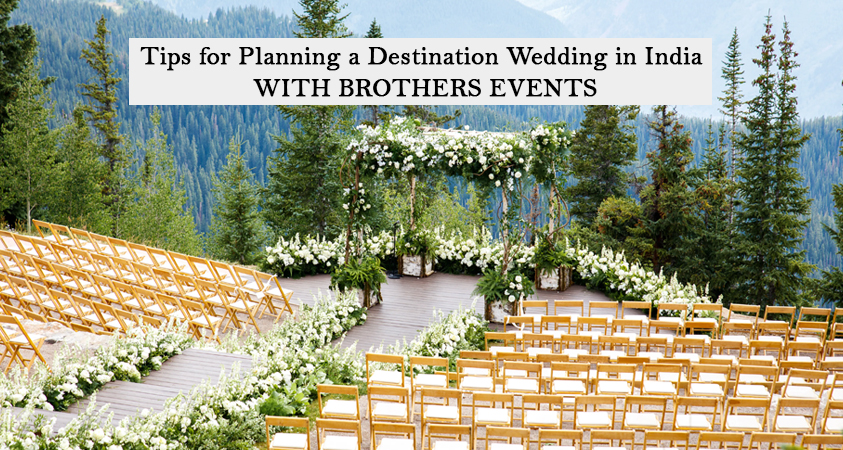 Tips for Planning a Destination Wedding in India WITH BROTHERS EVENTS
India is a land of vibrant colours, cultures, traditions, and stunning destinations that are perfect for hosting a dreamy and unforgettable wedding. A Destination Wedding in India can be an excellent way to add a touch of royal elegance to your special day. From the majestic forts of Rajasthan to the pristine beaches of Goa, India offers a diverse range of locations to host your dream wedding.
Here are some tips for planning a destination wedding in India that will make your big day memorable and stress-free:
Choose your wedding destination wisely: with so many beautiful destinations to choose from, it can be overwhelming to decide on the perfect one. Consider factors such as weather, accessibility, local traditions and culture, and budget. Some of the most popular wedding destinations in India include Udaipur, Jaipur, Jodhpur, Goa, and Kerala.
Hire a professional wedding planner like BROTHERS EVENTS: Planning a destination wedding can be challenging, especially if you are not familiar with the local customs and traditions. Hire WEDDINGS BY BROTHERS, who can take care of all the logistics, from finding the perfect venue to arranging transportation and accommodations for your guests.
Plan your budget carefully: A Destination Wedding can be expensive, but with careful planning, you can keep your costs under control. Choose an off-season date for your wedding, book your accommodations and vendors in advance, and negotiate with your vendors for better rates.
Incorporate local traditions into your wedding: One of the best things about hosting a Destination Wedding in India is the opportunity to incorporate local traditions and customs into your ceremony. Whether it's a baraat procession, mehndi ceremony, or sangeet night, adding these traditional elements to your wedding can make it more meaningful and memorable.
Choose the right attire: India is known for its rich and colourful textiles, so why not incorporate these into your wedding attire? Whether it's a stunning lehenga or a dapper sherwani, make sure your attire reflects the local culture and traditions.
Consider your guests' comfort: While planning your wedding, don't forget about your guests' comfort. Make sure you arrange for their transportation and accommodations, and provide them with all the necessary information about the destination and local customs.