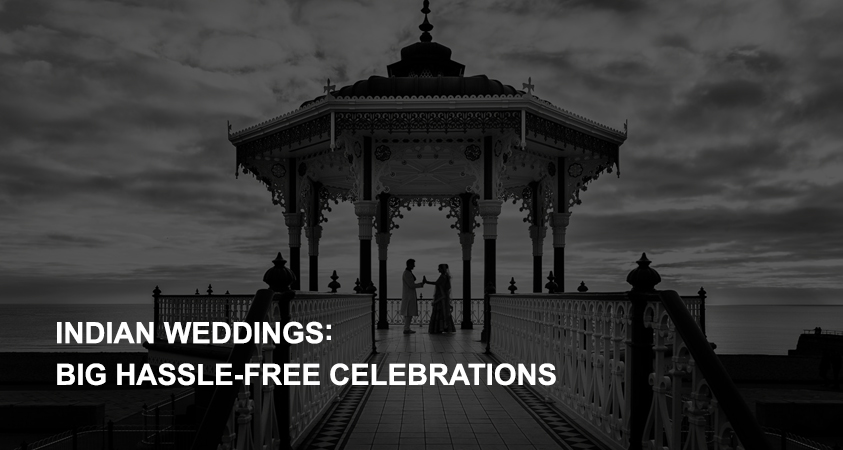 Indian Weddings: Big hassle-free celebrations
Indian wedding is being considered as a big celebration and the most important life event of each Indian's life. For this special day, people start planning, budgeting, and preparation before a month ago. And all these works are being done by the family, friends, and relatives. Even though preparation for this day is a bit hectic and complicated, Indian people enjoy doing so. But, according to the recent scenario, the Indian wedding trend is being modified and simplified by the help of the event organizer. The only thing you have to do is give money to the Event Organizer Management and take services from them.
Benefits of approaching services from Event Planner and Organizers 
The event planner and organizer may be a person or a group of persons that organizes the whole event according to the client's budget and demand. In the current scenario, Event Planner and Organizers basically have the client of wedding events. It is a very clear Indian wedding is not that easy as it sounds; it includes a lot of rituals and traditions that are being celebrated before 4-5 days of the wedding. Therefore, Indian people started planning and preparation prior to some days of wedding days. But Indian wedding has become hassle-free with Event Organizer Management. 
The major benefits of arranging an Indian wedding by the help of Event Planner and Organizers are given below;
As it is a business of proper planning and decoration, the client just has to pay for the service, and the whole wedding event will be managed by the wedding planner.
With a wedding planner, you can get excellent decoration at the most affordable price. And you can also do some negotiation in the price.
Event Planner and Organizers have their own team of professionals those experienced enough to perform all types of wedding works.
You can plan a destination wedding without any hassle; wedding planners can suggest you the best location and takes the responsibility of making the wedding event completely unique and memorable.
They have thousands of ideas, from which you have to choose any according to your budget. They will arrange the whole event starting from transportation, decoration design, hotel booking, music, photography, pandit, DJ, to wedding brunch, and many more.
Best Wedding Planner Services in Gujarat
If you are opting for the best wedding planners, you can go with Wedding Planner Services Gujarat. As they have planned many events and gain market value with hundreds of happy customers. For planning a destination wedding, you must prefer a Wedding Organizer in Ahmedabad. They have a team of planners and event coordinators, along with all types of instruments that can make an Indian wedding completely different than others.
In Gujarat, you will find the best service at Brothers Events & Entertainment. The team assures you to give 100% customer satisfaction while making a deal. With Brothers Events & Entertainment, the client doesn't need to worry about any matter related to the wedding just need to relax and enjoy the ceremony. They are one of the best wedding planners from Gujarat who are charging the best value to the customer for their services