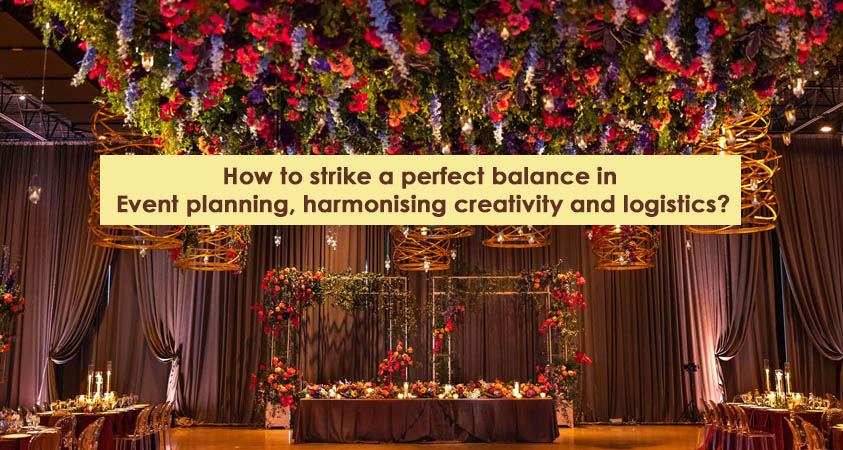 How to strike a perfect balance in event planning, harmonising creativity and logistics?
If you are into event planning, there are many things to take care of, from organising the catering to fine-tuning the logistics. Taking care of all the arrangements can overwhelm you. That's why using the Best Event Organiser in Gujarat would greatly help and the result would be worth the money. Integrating artistic innovation with organisational precision is the key, whether it's a wedding, birthday party, or any bespoke event. But time and cost management are crucial in event planning. So finding the perfect balance between creativity and logistics is essential for a successful and memorable occasion. Here are some tips to keep in mind:
To begin with, comprehending the client's goals, it is essential to be on point with creativity and logistics. Get professionals from the Best Wedding Planner in Ahmedabad to start with the event planning process by conducting detailed client consultations. This way, your creativity will align with the client's vision for themes, ambiance and preferences.
Effective collaboration is the key.
Whether it's a birthday party or corporate event, effective collaborations with other vendors are the key to executing the event seamlessly, which can balance creativity and logistics. Look for a professional Birthday Party Planner near Me to communicate openly and encourage brainstorming sessions with designers, decorators, vendors and technicians to implement practical logistics on your innovative ideas.
Proper planning and the following timeline
When there is a structured framework, creativity will flourish more. Hire professionals for Bespoke Events Management in Ahmedabad. who excels in meticulous planning and create comprehensive timelines covering every event aspect. It helps with efficient resource management, allocating budgets, and smoothly executing tasks.
Professionals understand that it is the small elements that make a significant impact on event planning. Brothers Events and Entertainment can help you arrange a bespoke event giving attention to details. From exquisite floral arrangements to personalised decor elements, every detail is thoughtfully curated to align with the creative vision while adhering to logistical considerations.
Final Thoughts
Successfully harmonising creativity and logistics requires a holistic approach while engaging in event planning. You need to engage in serious forethought and careful monitoring through the event lifecycle to be on point with delivering creativity and flawless event execution with logistics that can improve the event experience.