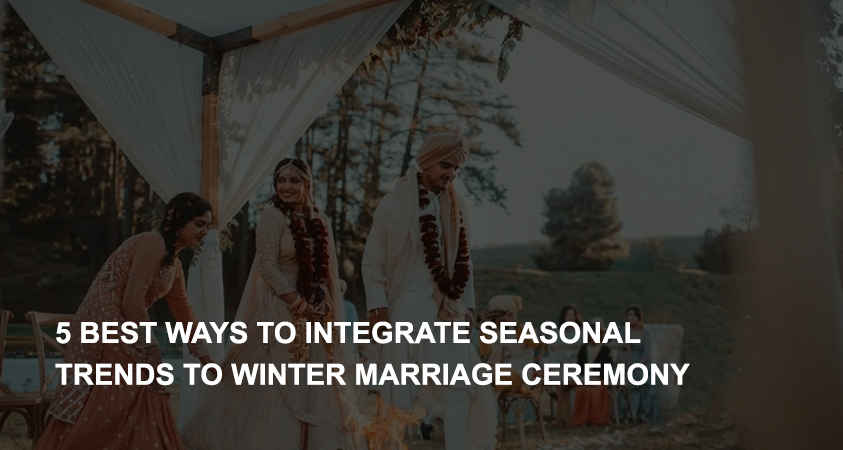 5 Best Ways to Integrate Seasonal Trends to Winter Marriage Ceremony
There is something different about winter weddings. The cold and romantic weather calls for a unique celebration. Some people consider the winter months as the best time of the year to get married. However, planning for winter weddings can be really challenging, especially when you want to add seasonal trends to winter weddings. For this reason, people opt to hire a professional event organizer company in Ahmedabad to get things done in the best possible way.
Here is the list of the 5 best ways to add seasonal trends to winter weddings. Let's dive in!
Look for Winter Fabrics
When it is about weddings, everyone wants to put on their best look. Clothing is one of the most important elements during weddings. In order to keep yourself cozy and warm during the chilly winters, it is best to go for the winter fabrics like silk and velvet. The velvet dresses will not only make you feel comfortable but will also give you a royal and rich look.
Add Hot Coffee or Hot Chocolate to the Menu
Who doesn't want to have a glass of hot chocolate or a mug of hot coffee in the chilly winters? Of course, everyone does! Make sure to serve your guests with hot coffee or hot chocolate while the rituals are on. It is sure to be a hit among the guests and will make them feel cozy.
Use Lots of Candles
With candles, you can prepare a dreamy and romantic setting in the wedding venue. Using candles in winter weddings can serve a dual purpose. It will not only create a beautiful scene but also provide warmth to the people present there. Make sure to use a lot of candles to ensure that everyone feels the warmth.
Decorate with Wintery Florals
Want to make your winter wedding decoration a little unique? Well, in that case, the best wedding planner in Ahmedabad would suggest you to use wintery florals. Cotton flowers, pinecones, and berries are something specific to winters. Leverage the wintery florals and think of creative designs to make your decoration stand out.
Use Twinkle Lights
Complete the romantic setup in your winter wedding using twinkle lights. The warmth and sparkle they offer will add a unique charm to the wedding.
Conclusion
There are a lot of ways to add seasonal trends to winter weddings. Brothers Events & Organization can help you organize your winter weddings the best. Whether you are looking for a birthday party planner in Ahmedabad or a corporate event organizer in Ahmedabad, Brothers Events is the right choice. It is one of the best corporate event management companies in Ahmedabad that can offer you the best services.